By: Rob Tomkinson
The morning's first session explored the stories behind some of the best PR campaigns – what makes them, how can we learn from them and, most importantly, how can we measure them?
Danny Rodgers, Editor-in-Chief at PR Week chaired a panel of experts from globally recognised brands. PR, he said, is all about integrated storytelling, and how communications teams fit into that mix. There are, however, some universal traits which all great campaigns have in common:
Being PR led first and foremost
Having strategic leadership, vision and authenticity, from Margaret Thatcher to Apple
Powerful and consistent narrative (which is increasingly being led by some form of social purpose)
Digital and data led (and content driven)
An understanding of new patterns of influencers (and how you measure that)
Converged and integrated mix of paid, earned, social and owned media (the Real Beauty campaign is a great example of this)
Measurable and effective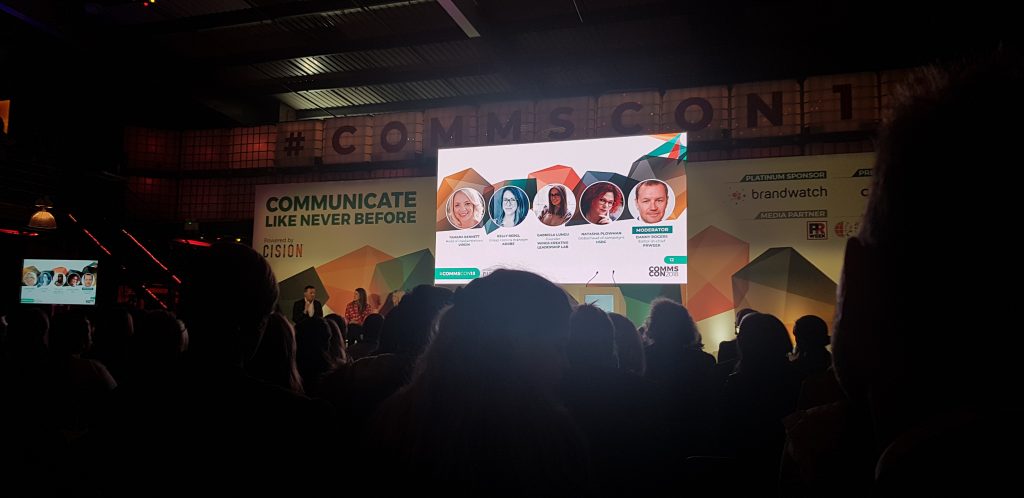 Great story-led PR campaigns
Virgin Holidays Attn campaign
Tamara Bennett, head of media relations, Virgin (TB)
"My role is all around looking after Richard Branson's profile and supporting Virgin companies all around the world. Purpose threads through our entire group… how can we change businesses for good. This campaign obviously had a serious message but we wanted to make it more fun. We're always asking 'how can we shift perceptions'. Are we helping to change attitudes… Measurement is so critical – I don't see the point of PR for PR's sake."
This Attn campaign was part of a three-year plan to cut out LGBT discrimination abroad, with three main aspects
Social integration throughout
The main PR story itself
Always questioning how the wider business could support this cause
Adobe – Hidden treasures of creativity
Kelly Bergl, group manager EMEA communications, Adobe (KB)
"At Adobe we have a creative heritage. We try to measure the whole marketing stack and tie all of our campaigns to commercial goals while also honouring the creative community of our users… the objective of this campaign was to gain new subscribers to Photoshop and our Photoshop brush kit… these paintbrushes had never been touched since he died, but we made replicas so everyone could use them. We them invited people to download the brush and submit their own Munch paintings. It was a huge win for us."
Adobe puts its customers at the centre of every campaign, including its Hidden Treasures of Creativity, as Bergl explained. The company only every uses customer-created artwork in its campaigns – a nod to the community that has made it so successful.
Beau Monde – Bihor Couture
Picked by Gabriela Lungu, Wings Creative Leadership Lab (GL)
"This is such a great example of a creative-led campaign, one which one several Cannes Lions this year… and pre-orders in the first month alone were enough to cover the next five years for Bihor. It's a classic David Vs Goliath story"
HSBC – Trade Navigator
Natasha Plowman, global head of campaigns, HSBC (NP)
"This was an insight-led campaign with research from 8,500 businesses to find out what find they think about trade, red tape and technology… the objectives were a) we understand your world and b) we are your partner… we wanted to show that actually, contrary to lots of news in the media, businesses just get on with it."
The HSBC Navigator campaign had three clear points to communicate:
Now: Where are we
Next: Where are we going
How: How can we help our customers
The challenge for this corporate communications campaign was 'how do you cut through to help staff have better conversations with customers.
Panel Q&A
Do all good stories have something in common?
NP: Yes, absolutely. Be clear on the outcome you want to achieve first, rather than what you want to say.  Consistent storytelling is the key for behavioural change. 
TB: Think of how charities do it really well – there's a real art to unpicking a story. And find the great storytellers in your team – not everyone can be a great storyteller, so find the people in your business.
KB: The most important thing is for your business to be authentic and true to itself.
GL: You need to know what you're pushing against, what you're fighting for.
Why is it so hard to measure the impact of communications?
KB: We gained a huge subscriber rise from our Munch campaign, but we're yet to nail that PR attribution metric (yet).
Why is it important for businesses to be brave and bold?
TB: Virgin isn't a very cautious company. That element of risk taking comes from our founder down, I think. Take the great 'BA can't get it up' example from a few years ago now when there was a problem with the London Eye. Sometimes you just have to go for it.
Does your comms team have to buy less paid media nowadays?
TB: We're certainly not having to spend as money, which is great. There are some great examples of social exposure, such as #poogate – he ran out, we were listening, and the results were great.
Is the press release dead?
TB: A lot of the time we simply don't do press releases anymore. They're not dead, but there are much better ways of us getting our stories out there.
And what about AI and data science?
KB: We invest really heavily in this field, there are so many amazing benefits for a business like Adobe.
TB: It's certainly something we're looking at, but we haven't fully integrated it into our communications teams yet.
Are comms people taking a bigger role?
TB: It's the story first, not the channel. We find the story, and then work out how it can best live across a number of different channels.
–