Paving the way for investment for Minster Group
Raising the company profile regionally and across industry

SERVICES

PR, SEO, Social media
"Carrington has done an excellent job in raising our company profile and establishing our reputation. They really know what makes a story, and they know how to get us covered by the press. Thanks to them, we've been featured regularly in the news – including The Sunday Times and a prime-time interview on the National BBC News at Six. They've also helped us to win at least five big awards in less than two years."
Bruce Spencer-Knott
Managing Director, Minster Group, a Breedon Group company.
Results
201% increase in website visitors year-on-year

150+ press mentions in 12 months

11.2m people reached through national TV and radio coverage

5 major award wins in a year
The Brief
In 2017, we were appointed by the Lincolnshire-based civil engineering company Minster Group to raise the profile of the business and its founder regionally, nationally and across the trade.

Minster was going above and beyond other road surfacing firms through its use of the latest technologies and green innovations and although it was successful, the company wasn't getting the attention it deserved.

Minster's MD, Bruce Spencer-Knott wanted our help to get the company recognised and respected for its technological innovations and high quality work.

In 2023, Minster Group was acquired by Breedon Group, securing the firm's long term future.
Our Approach
Over the three years we've been working with Minster to date, we've delivered an evolving PR campaign to promote the firm and its founder, Bruce Spencer-Knott.

We began working with Minster by generating regular press stories and website case studies based on the work the company carries out.

This formed the foundation of our efforts to highlight the company's work and activities in the local area but we built on this by positioning Bruce as a thought leader in the civil engineering sector. Through writing features and providing comments for trade and industry media as well as mass media, we helped to unlock the potential of Bruce's expertise and passion for innovation and technology.

We got Bruce profiled by the Sunday Times, we had him interviewed about his career on BBC Business Live and we had him speaking about the economy on BBC News at Six.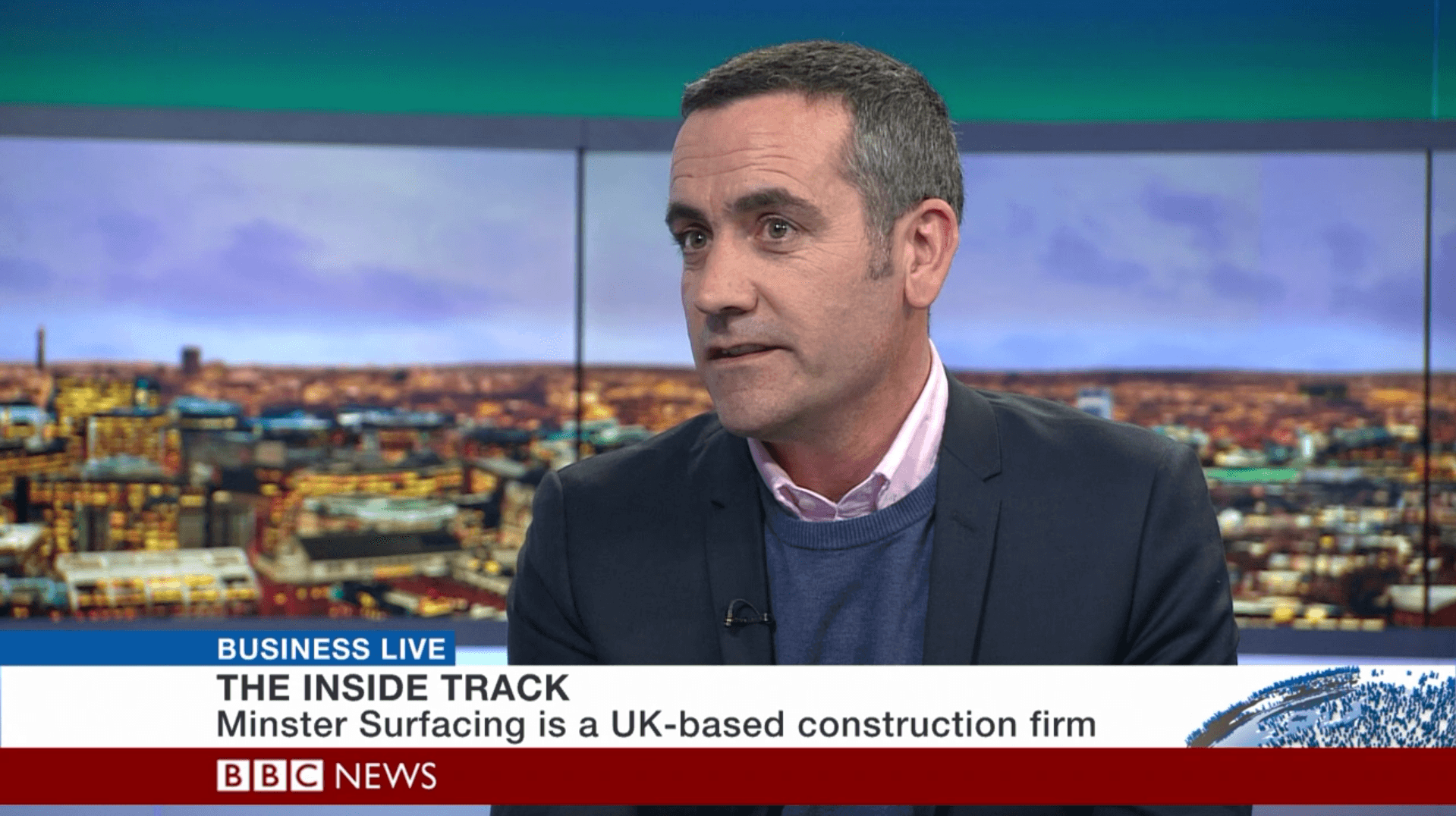 As an industry that's often characterised as dirty, old fashioned and pollutive, we recognised the role that Minster has in modernising the industry and leading by example. We've built a campaign around the many green innovations used by Minster which have dramatically cut the impact of its work on the environment.

To prove Minster's green credentials, we entered it for a number of awards for green or innovative businesses to enormous success, earning the company some of the most prestigious green awards in the country.

As Minster neared its 20th anniversary in 2019, we spearheaded a full company rebrand. Combining Minster Surfacing and its sister company, Alliance Recycling under the new Minster Group brand helped to give Minster a visual identity which would match the company's aspirations and achievements.

Managing the creation of a new website by Lincoln Based SOKA Studio, we rewrote the whole website and carried out search engine optimisation to help Minster look and sound just as modern and dynamic as it really is.