We're really excited to be celebrating our third birthday! Carrington has come a long way since 2016 – here are some of the things that have changed for us and for the industry over the years, plus some of our fantastic milestones over the past years.

Rewind to November 2016
Carrington had one member of staff, one client and an office cat, all working out of a home office in the Lincolnshire Wolds. Fast-forward 12 months and there were two of us, with 10 clients, working out of the fantastic BG Futures Centre in Lincoln. Another year on, and there were four of us, with almost 20 clients. And now, three years on, there are six of us serving almost 30 businesses and organisations across the East Midlands and UK from our bigger, better offices in Nettleham.
Our team now includes specialists in digital PR, SEO, PPC and social media management, and we've continued to grow sustainably through strong client relationships and excellent campaign results.
Our clients today
Our list of clients now include organisations from a range of sectors and industries from the top-30 UK accountants Duncan & Toplis to the sustainable housing developer Gusto Group and the building manufacturer SuperFOIL. Our work for Lincoln Drill Hall to promote its 'Be a Brick' campaign has helped the not-for-profit venue to secure its long-term future, while our campaigns for Cope Seeds have had a clear impact on the agricultural seed merchant's business this year.
We've recently won new work with more big local names, such as Doddington Hall and the fast-growing construction firm Belvin.
We're still working with many of our earliest clients too, such as Minster Group and Louth Tractors, three years on.
Our team
As our client list has grown, so has our team! The ratio of people to cat is now balanced in our favour, particularly now that we've welcomed our recent additions, Harriet and Leah.
Harriet joins the team as digital marketing manager. With a passion for marketing and all things digital, she brings her CIM marketing qualifications and wealth of experience managing PPC, SEO and social media campaigns to help our clients grow and develop their online presence to deliver better returns on investment.
Leah joins the team as our new junior PR account executive. A recent English and Journalism graduate from the University of Lincoln, Leah is new to the world of PR but writing is her true passion, whether it's news stories, blog posts or lengthy feature articles. She loves a challenge when it comes to creating great copy.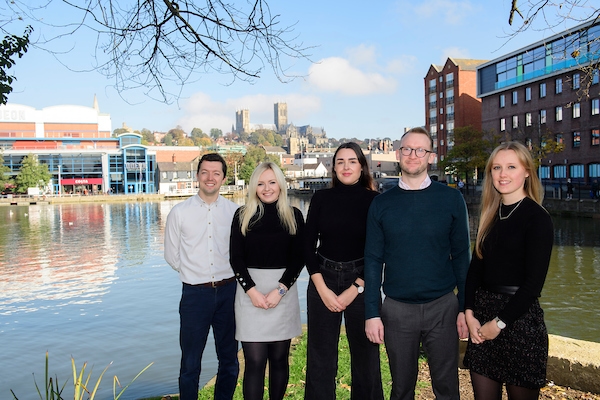 A new look for 2020
Ahead of our third birthday, we also launched our new website with updated branding too – thanks to local design agency SOKA studio; giving us a fresh look to coincide with our exciting future plans.
What's changed in PR
As Lincoln's first digital PR agency, we've led the move towards more effective, better integrated, and more measurable PR campaigns. As one agency after another has since expanded into 'digital', our approach has always been data-driven, combining PR expertise and SEO know-how with the latest paid-for tools and platforms to deliver campaigns that deliver real return on investment.
At its heart, every great PR campaign still needs that 'killer' idea. The how, and where we communicate that idea is now more exciting and varied than ever before.
…And what about SEO?
Three years is a long time in digital marketing! Algorithm updates, the rise of 'position zero', the march of voice search and more have evolved and changed during our three year history. But while some things have changed, the fundamental elements of search marketing have remained, such as having a well-optimised site, using smart technical on-page SEO techniques, with content that captures relevant organic traffic that's then converted into sales.
A great SEO strategy combines that with off-page activity that's creative, data-led and thoroughly researched, running in parallel with effective PR and paid search campaigns.
What's new in paid and organic social?
Social has changed significantly since 2016 and as always, the social media landscape is ever evolving. There have been algorithm updates, the rebranding of Facebook and the development of the paid advertising platforms to name a few examples.
An effective social media strategy for any business is a combination of both organic and paid social – utilising both of these channels allows businesses to achieve their goals more effectively and efficiently. When we look at social media in 2016, the focus was conversation and content – we now look beyond this to acquisition, remarketing and retention; as social media has become a vital part of many business models.
Organic social has now become ideal for community engagement while paid social reinforces your message that you've shared through organic while achieving your overall business goals. Use the two simultaneously together and not only do you begin to build a strong online presence but you're reaching and connecting with users in each part of the conversion funnel. In 2016, many businesses would opt for one or the other but in the present day, this has become less popular.
Ready for 2020
We're thrilled to be celebrating our third birthday and are proud of the achievements and successes we've seen so far! Here's to 2020 – and all the new opportunities ahead.
Watch this space…