David Robson, Junior PR Account Manager at Carrington Communications
By day, I may be a junior PR account manager here at Carrington Communications. But by night, much like Peter Parker and Clark Kent, I have an alter ego… A superhero no less.
Let me introduce you to Coeliac Man.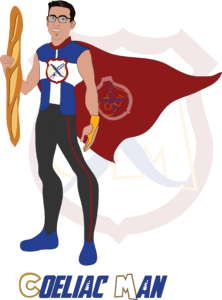 To understand why I pose on the internet as a cape wearing, gluten free baguette wielding superhero we need to rewind a little.
The origins of Coeliac Man
Back when I was a baby there was a slight problem in that I was vomiting on a daily basis, my stomach had ballooned out to the size of a bowling ball and generally things were not going well.
After numerous doctor and hospital appointments, during one of which my parents were advised to feed me plain foods like bread (which, as it turns out, was spectacularly bad advice), I was eventually referred to a gastrointestinal specialist. Thankfully, he had the foresight to get me tested for coeliac disease. I'm reliably informed that I proceeded to scream the hospital down during the biopsy, but thankfully I was far too young to remember any of this. Sure enough, I was diagnosed with coeliac disease and ever since I have had to follow a strict gluten free diet.
Coeliac disease is a serious illness where the body's immune system attacks its own tissues when you eat gluten. This causes damage to the lining of the gut and means the body can't properly absorb nutrients from food. Coeliac disease is not an allergy or food intolerance, and the only treatment is to follow a gluten free diet for life. That means no bread, pasta, cereals, cakes, biscuits…. Basically all of the good stuff.
Gluten is a protein found in wheat, barley and rye and reactions to gluten differ from person to person. I am on the more symptomatic end of the spectrum so even a minor gluten contamination of a few crumbs is enough to make me very ill for days. Thankfully though, these 'glutenings' are very uncommon thanks to being very careful about what I eat, so I've managed to lead a fairly normal life despite the condition.
Embracing a passion for writing
So, where does Coeliac Man come into all of this?
I started the Coeliac Man blog and social media profiles in 2017. The initial idea was to again do some writing in my spare time which I'd been missing since I left uni, but also to share my decades of experience of living with coeliac disease.
Being diagnosed with coeliac disease as a baby as I was is relatively unusual. While you can develop coeliac disease at any age, it is most commonly diagnosed in 40-60 year olds, and delayed diagnosis is common. I therefore felt that my experiences could potentially be useful to other people, particularly those who are newly diagnosed.
That was really the initial idea behind it, and, armed with my new superhero character created for me by a friend and former colleague, I was off!
Of course, I do spend a lot of time posting pictures of my dinner on Instagram, but I try to combine that with genuinely useful content sharing tips and new products, and using my voice to help amplify those issues that people with coeliac disease face – such as the challenge of eating out and the cost of gluten free food. I also get involved in campaigns run by Coeliac UK, the main charity for people with coeliac disease, to help raise awareness. 
Free food, making friends and a TV appearance
Running the blog and social media accounts has granted me some amazing opportunities over the years. I am very lucky to have been sent free samples of gluten free food to try and review by various companies, and I've written blog posts for a couple of free from brands and Coeliac UK.
There's a massive community of fellow coeliacs and gluten free people online as well, with Instagram being particularly popular. I regularly steal other people's meal ideas from there and I've even met up with multiple people who I met on Instagram. A group of us who are based in the Midlands have been for a few gluten free meals together, and I've met others at Allergy and Free From Shows across the country. It really has been a fantastic way to connect with people who I wouldn't otherwise have met, and it helps to feel less alone with the condition knowing a lot of people are going through the same thing.
In 2019, I appeared on BBC Look North to talk about the challenges of eating out with coeliac disease, an issue which I had discussed on social media. I usually like to do my talking via the written word, so being interviewed on camera was a little daunting for me but I thought it was an important opportunity. It was a fantastic experience overall, and great to have a bit of a platform to discuss an important aspect of living with coeliac disease.
I am Coeliac Man
That's really what it's all about for me. It allows me the chance to talk about something I'm really passionate about, as having coeliac disease has always been a massive part of who I am. I also enjoy the writing element of it as I can write totally unfiltered and shout about things I really believe in. I find it a fulfilling hobby, and one that has undoubtedly helped me to define what I want to do as a career also.
Since getting into marketing, I've always looked for roles with a focus on writing content, as I knew that's what I enjoyed doing in my spare time thanks to my blogging experience. That naturally led me to pursuing a PR role, which is how I ended up at Carrington!
I would encourage anyone who enjoys writing to start a blog and social media accounts about a topic you're passionate about. It can open up some amazing possibilities, connect you with a community of like minded people and be an enjoyable and rewarding way of spending your free time.
Follow me in my battles against gluten at www.coeliacman.com