This month we've been lucky enough to attend #CommsCon18: The inaugural convention for the communications and PR industry from Cision.
In this series of posts, we're putting together our notes from an incredible panel from industry leaders on how to respond in a communications crisis – including one of the biggest stories of the year; when KFC ran out of chicken.
On the panel were:
Yesterday, we explored Gumtree's "death by a thousand papercuts" crisis.
Today, it's a crisis that got the whole country in a flap….
KFC's big chicken "FCK up" – Jenny Packwood
"You may be aware that we had a little bit of an issue earlier this year", began Jenny Packwood, head of brand engagement for KFC UK & Ireland.
On Valentine's Day 2018, KFC changed to a new distribution partner hoping to improve the supply chain and improve efficiency. "That was the plan… This was what happened."
The KFC chicken crisis saw 750 stores out of the company's 900 stores in the UK and Ireland closed with 19,000 team members affected.
Jenny explained that in the eye of the storm, the media team took 321 media enquiries (half of what they'd normally get in a year) in just seven days. 80% of UK adults were exposed to the story and it was on the news at ten every night for a week.
What gave this crisis rocket fuel, according to Jenny, was that this was a well-known brand facing a fundamental problem on an unprecedented scale for a UK business. It was a full blown crisis which lasted for around two months and there was no easy fix or end in sight. The company literally couldn't function but the lasting impression of the crisis was a stroke of genius:
"The FCK Bucket"
So how did KFC build up the courage to buy a full page advert with an almost-swear word in national newspapers nine or ten days into the crisis and how did they turn a real crisis into a success story?
The chicken crisis was a perfect storm for the media. It was prime for chicken puns (Jenny has now heard every one of them now) and it was driven by the fact that it involved all sectors – there were food wastages, unions were involved, politicians got involved, people even called 999 because they couldn't get their chicken! The story was moving onward "like an uncontrolled beast".
Other brands got involved and started piggybacking on the story, memes flooded the net, new angles were being thrown at the media team constantly and one woman on the news even said she'd have to go to Burger King instead (seriously, you'd go to Maccies before Burger King, wouldn't you?). So what did they do about the rapidly escalating crisis?
"The number one most important thing we learned", said Jenny "was to be true to our brand voice. Often when a crisis hits, it's easy and comfortable to retract and be safe, corporate and terribly formal. We actively decided not to do that. We know who we are as a brand and we know our voice and we stuck to it."
Another key part of their response was to tackle the problem head on and not to fudge it or shift the blame "even though there was an obvious place to shift it", she said. "We put out hands up and that provoked good will from the media and the public".
Social media became their channel for proactive comms, enabling them to communicate with their customers and with the media. They used it was a proactive tool to help them get their messages out. After days of being bombarded with questions by the media, they posted a set of FAQs on their website using their tongue-in-cheek, light hearted brand voice, with questions including: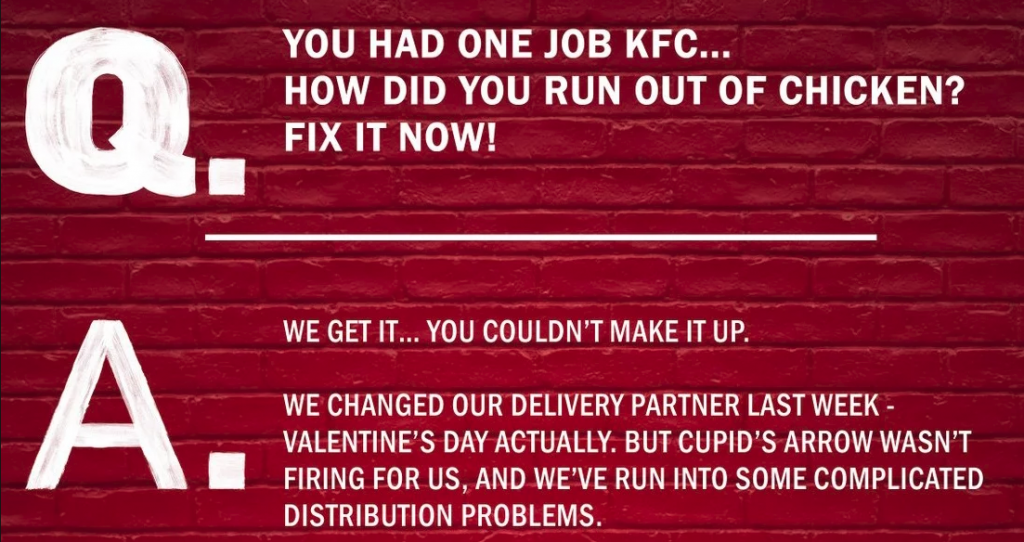 All of this work led them to "the FCK bucket". While one team in the media office was working on the immediate responses to the media, another group were thinking about their next steps and working with external PR agencies and one of them came up with the idea for the bucket.
"The most powerful thing about the bucket was that it enabled us to take back control of the crisis and shut it down, putting all the attention on our response", said Jenny. "It gave the company a way of saying sorry in a bold, human way and in a way that felt true to our brand."
This is one of the best approaches to take in a crisis. Sometimes the instinct is to shink away, say nothing and hope it'll blow over, but that enables the media and the public to fill the vacuum with a narrative that you can't control, which might be inaccurate and which will almost certainly be unfavourable. Instead, the best course of action is to be open, honest and proactive.
Behind the scenes, Jenny jokes that "F**k" was what they were all saying all the time, so the FCK Bucket was a perfect fit for them, it put their message in the headlines instead of more negative alternatives and it disarmed the issue.
Interestingly, this FCK bucket never appeared on KFC's social media channels, it was in print only. This, says Jenny, gave the image credibility and weight, whereas if they'd posted it on social media, it would have come across as "Look at this quirky thing we've done!"
Jenny makes it clear that not every company could get away with putting an offensive word on a billboard, but she says it was right for KFC as it suited their voice. She also explains that the team couldn't have done it without having a very integrated agency and marketing model, a defined voice and style that they'd built up and the full backing and complete trust of the company's managers.
The decision took guts and Jenny said they were all terrified behind the scenes, but they felt that, after thinking about the bucket for 48 hours, they were on top of the issues and the timing was right.
And what's the main message on the advert? (aside from "FCK")… "We're sorry". Not every business or public body has the guts to say that word, mostly because of the belief that it will somehow be viewed as an admission of guilt.
This is one of the things that will be addressed in our next blog when we find out how to slay the three "crisis demons" and the power of saying "sorry".