Just in time for Earth Day on the 22nd April 2022, we've hit an important milestone – we've been climate positive for a whole year!

What does that mean?
In a nutshell, each of us, whether we're at home or in the office, have a pretty sizeable carbon footprint which contributes to global climate change: Every journey we make, every meal we eat, every hot bath and every hour of TV all adds to the impact we have on the planet. When we're at work, our individual carbon footprints get bigger still when we're travelling, blazing away on our computers, making calls or even just storing and retrieving data from the cloud; electricity and energy is used throughout.
Being conscientious people in marketing and PR, we're always mindful of our own behaviour and we practice what we preach – and that's why, last Earth Month, we took a pledge to become a climate positive workforce. That means we more than offset the impact every member of our team has on the environment – including all the carbon emissions from both our work and home lives.
Planting trees without mucky knees
We do this by planting trees, supporting renewable energy projects, sustainable public transport initiatives and helping to preserve rainforests.
Now – confession time – we don't do any of this ourselves; we don't have a forest of beautiful trees behind Carrington HQ and we wouldn't know where to start if someone asked us to put up a turbine… instead, we pay some nice people to do it for us.
We're supporting Bristol-based environmental organisation Ecologi and each month we contribute a sum based on the number of people on our team, our typical behaviours and World Bank data on the emissions from the average person in the UK. They then use this money to fund green initiatives which reduce carbon emissions elsewhere or cut greenhouse gas in the atmosphere.

As a result, we've….
Planted 857 trees in Mozambique, Madagascar, Nicaragua, Kenya and Uganda
Contributed to building wind turbines in Honduras, Thailand and Vietnam
Contributed to building hydroelectric power stations in India
Supported the world's first fully solar powered metro system in India
Helped preserve areas of the Amazonian rainforest in Brazil
Thanks to all this, we've offset 60.06 tonnes of CO₂e – far more than our estimated carbon footprint of 18 tonnes.
Can't picture what 60.06 tonnes of CO₂e looks like? Well it's the equivalent of 46 long haul flights from London to San Francisco or 149,009 miles in a car and it could mean 180m² of sea ice saved – and we're just at the start of our carbon positive journey!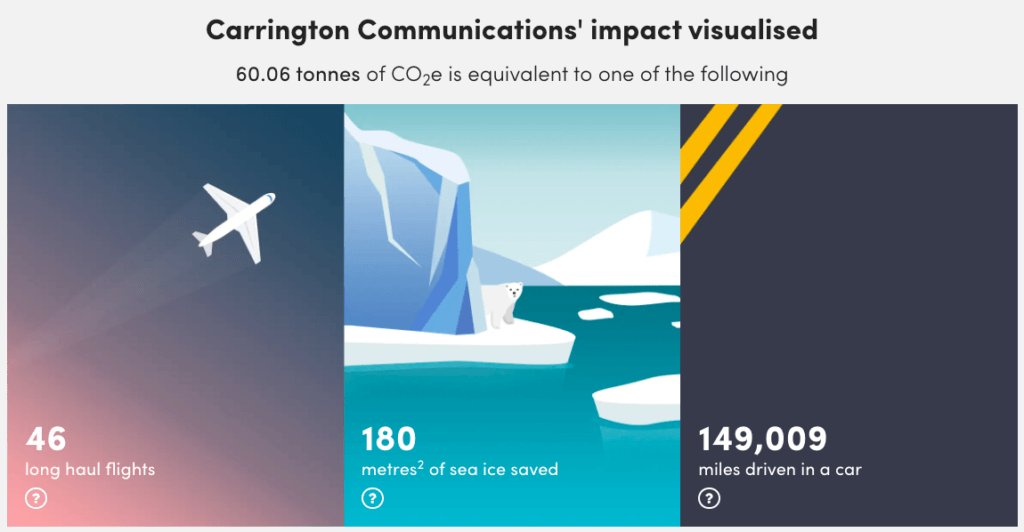 If you'd like to help fight climate change and offset your carbon footprint, there are several great charities and organisations that can help, including Ecologi.
You can find a variety of them on the links below – each of these has been accredited by organisations such as the UK Carbon Association, B Corp and Woodland Carbon CO₂de, although we can't independently verify their claims ourselves.
Ecologi: Either help our forest grow or start your own using this link (and we both get more trees!)
You should also be aware that carbon offsetting is great, but it's far better to directly cut your own carbon emissions first, because storing carbon in trees isn't as effective as leaving carbon in the ground.
With that in mind, we'd strongly encourage you to also do whatever you can to improve energy efficiency, reduce waste and cut emissions as well as offsetting your environmental impact – and when better to start than Earth Day?
Helping to protect the environment is not only the right thing to do, it's also good PR – and we can help you with that too.