Last week, we got one of our clients, SuperFOIL Insulation, featured as on the UK's two biggest TV news broadcasts.
Included in reports by BBC Economics Editor, Faisal Islam, the company made it onto BBC News at Six and BBC News at Ten, reaching an audience of 8.8 million people across the UK.
If you read this and think we're just showing off (we are), there's more to it than that – we're sharing the inside story of how this came about and why just 40 seconds on national telly can be incredible coverage.
40 seconds of fame
I know what you're thinking: How can 40 seconds be so valuable?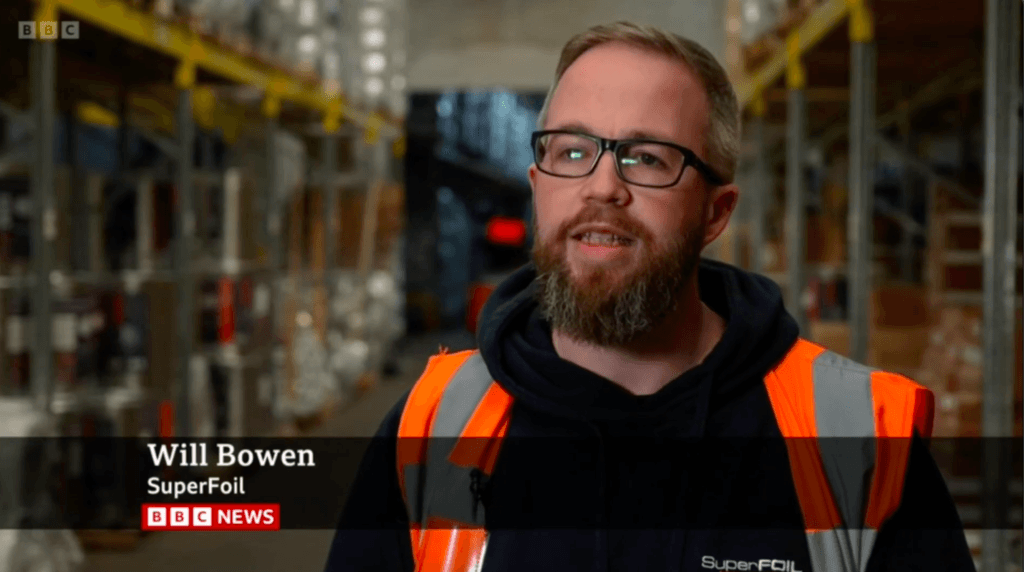 Well, it was actually 39 seconds on the News at Six and 48 seconds on the News at Ten if we're being pedantic, but the impact of both was extraordinary.
While those two programmes were on air, SuperFOIL saw its website traffic increase by 560% and 905% compared to 24 hours previously and users are still up 27% compared to the previous week. We're talking four-figure increases.
And these weren't idle visitors with little interest in the product – each website metric shows clear improvements including organic searches, pages per session, bounce rate and average session duration and, critically, goal completions are up too.
Since these media appearances, SuperFOIL's e-commerce sales through Amazon have doubled and overall sales are up 60%. There's also been a 33% increase in requests for quotes, sample packs and installation guides through their website.
We can't share the exact figures, but as SuperFOIL is the UK's leading manufacturer and supplier of foil insulation products, these are big numbers, worth a lot of money to our client.
MD of SuperFOIL Insulation, Will Bown said:
"David and the team at Carrington have secured us some great media coverage over the years that they've been helping us to raise our profile and attract new customers, but I've been blown away by the impact of being featured on national BBC News.

"Right from their first pitch to the producers through to broadcast and beyond, Carrington made sure everything went smoothly. Using their knowledge of our business and the media, they helped the BBC to get the material they were after while ensuring we would look as good as possible in the short time we were on TV.

"From the moment we were on-screen, we saw a spike in people viewing and buying our products and we've seen a continuing surge of interest which is having a great impact on our business. It feels like we're getting the attention we deserve and it's helping us to set new records as we help more and more people keep their homes warm this winter."

William Bown, Managing Director of SuperFOIL Insulation
How to get your business on TV
Positive media coverage is what PR is all about, but it takes a lot of work behind the scenes.
SuperFOIL's connection with BBC News began more than a year ago when we managed to bend the ear of Faisal himself at a time when he was looking for examples of businesses affected by Brexit.
We'd just finished a press release about this subject so we pitched this to him and set up a call between his producer and the MD of SuperFOIL, Will Bown.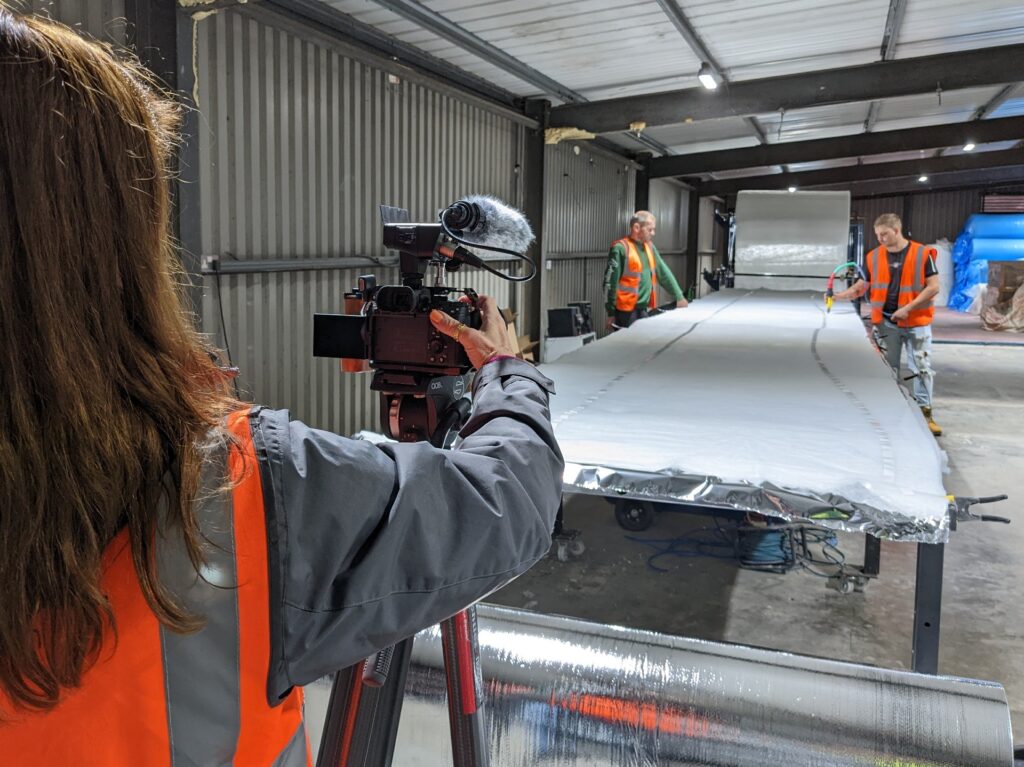 Unfortunately, the unpredictable nature of the news cycle meant the story had moved on before they could send a camera crew, but we maintained a good relationship with Faisal's team and made sure they knew we'd be ready and willing to help them the next time an appropriate story came about.
Fast forward to last week and the BBC got back in touch following Liz Truss and Kwasi Kwarteng's controversial 'mini budget', looking for an exporter affected by the falling value of the pound. SuperFOIL fit the bill.
After a few rapid emails and calls, we'd set up for a site visit and interview for BBC News the next day.
TV news is crazy
I mentioned earlier that national TV is crazy. In fact, all TV is crazy but it's especially the case with national news bulletins because of the competing demands of quality, immediacy and brevity.
Between us, SuperFOIL and the BBC, about two days' work went into making the 97 seconds of footage – and that's not including the time it would have taken to edit and bring the item to air.
After numerous calls between us and BBC producers, a camera operator travelled to SuperFOIL's Lincoln HQ to film the content they were after.
Exploring the premises, we helped the camera operator get a wide range of shots and sequences before setting up the interview with Will and filming yet more activity around the factory. We then set them up in an office to send the recorded content back to London for editing.
Filming for TV is always a bit weird – for shots to be nicely edited together, you need to move around for a huge range of angles and get people to pause mid-action or repeat movements and activities so you can capture a whole sequence.
They also needed to record a short conversation between Will and a colleague, Chris which would both sound natural and relevant to the topic as a short setup-clip.
That alone was fun and/or frustrating for SuperFOIL team members who were used for each shot but things became even more bizarre during the actual interview.
'Fake Faisal' on a stick
As the economics editor of the BBC, Faisal Islam is a busy man, covering serious and complex topics each day and he can't be everywhere, so Faisal couldn't visit the factory in person.
But, to give producers a bit more freedom when it came to editing, they still wanted the option of having Faisal 'interview' Will. This was to be done using a stand-in who would ask Faisal's questions which he would voice-up and re-record in the studio if needed for the final edit.
It sounds odd, but this is surprisingly common in TV, especially when well known media figures are involved – Many years ago, I once sat in for his predecessor Stephanie Flanders! – Doing this gets around a logistical headache and it avoids having some unknown voice asking questions during someone else's report which would be really distracting.
But, with only a camera operator in attendance and no producer, things had to go a step further for the filming at SuperFOIL.
This time, the producer would be putting Faisal's questions to Will through a video call on a smartphone which was propped up on a tripod out-of-shot beside the camera.
Jokingly called 'Fake Faisal' the producer asked lots of questions, repeating them several times to help Will hone his answers into short and succinct soundbites. In the end, just one answer was used and none of the questions were re-voiced.
Big work, big reward
The work that goes into every news story is immense and it's experiences like this that make you appreciate it all the more.
While you watch the news and digest the neat, 30 minute broadcast which then segues into your regional news, you probably won't think for a moment about the work and dedication that goes into making it happen – it just does.
It's even more amazing to think that after around four or five hours of filming on location, almost all of the footage was left on the cutting room floor. And now that it's been broadcast, it's job is done and it'll probably never be seen again – it's even vanished from iPlayer already!
Having worked at the BBC myself, I'm used to this – I was terrible at over-recording on every story because it's always better to have too much material than too little, working away to produce just a few minutes of content each day.
From the outside, it does seem a bit bonkers, but, as well as its value in helping to explain the news, its value to our clients is huge.
By helping the BBC to explain the story of the day, SuperFOIL had an audience of millions see their products, hear their name and have a glimpse behind the scenes. The company's history was mentioned, and its branding featured in almost every shot.
As a result, thousands of people have checked them out online and are now buying their products.
It was a lot of work from everyone involved, but it's been great for our client.
–
Find out more about our other work for SuperFOIL Insulation.